I needed to lookup the owner/registrar for a ".name" domain today.  I've never done that before.  It looks like Verisign manages the ".name" TLD, so I find their web page WHOIS for the ".name" TLD.  I entered the domain I needed to look up and got one of the more useless WHOIS responses I've ever seen.
Domain Name ID: 2960794DOMAIN-NAME
Domain Name: SERVER-LOGIN.NAME
Sponsoring Registrar ID: 20REGISTRAR-NAME
Sponsoring Registrar: Cronon AG Berlin, Niederlassung Regensburg
Domain Status: ok
Registrant ID: 2428378CONTACT-NAME
Admin ID: 2428378CONTACT-NAME
Tech ID: 2428378CONTACT-NAME
Billing ID: 2428378CONTACT-NAME
Name Server ID: 1344789HOST-NAME
Name Server: NS3.MG-PROVIDING.DE
Name Server ID: 1344790HOST-NAME
Name Server: NS4.MG-PROVIDING.DE
Created On: 2007-10-22T21:24:00Z
Expires On: 2010-10-22T21:24:00Z
Updated On: 2009-10-23T00:35:40Z
It proved that the domain was indeed registered, but provided no ownership or contact information.  Going back to the main WHOIS query page on https://whois.nic.name/ showed another option for a "detailed WHOIS query".  The page says "For detailed Whois searches, which are subject to higher privacy protection than Summary and Standard, please initiate the query using the form below" and prompts for the domain name.  So I enter the domain name and get the following: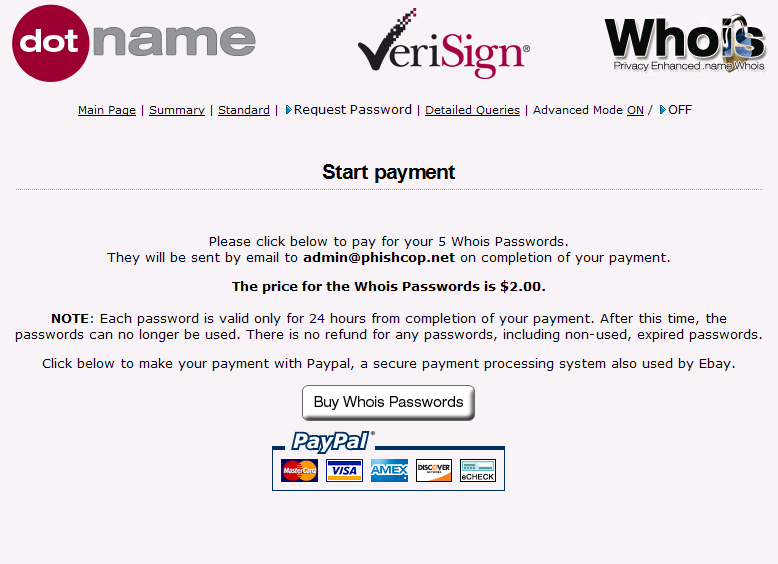 Verisign is CHARGING for WHOIS!!  I couldn't believe that Verisign would actually charge for one of the most basic services provided by domain registrars on the Internet.  Well, I do believe it since it is Verisign – why should I be surprised??